Creating limitless possibilities for all
Driving Possibilities is a new way for Toyota to partner with schools, nonprofits and the community to help all students succeed – at school and in the careers of the future.
Toyota believes all kids deserve an equal opportunity to access rewarding careers in high-growth industries and together we can do more.
Toyota's Driving Possibilities is focused on preparing youth for the careers of tomorrow while addressing root causes impacting learning.
The goal of Driving Possibilities is to close educational gaps for all students through innovative, hands-on STEM programming that aligns with STEM careers and increases student achievement. It also includes professional and leadership development for teachers to support STEM education and student achievement. Innovative, after-school and on-campus programs increase STEM awareness, excitement and interest while addressing the basic needs of students and families.
The Fayette Education Foundation is proud to serve as a funding/fiscal partner.
Together with community leaders, Toyota and National Centers for Family Literacy (NCFL) announced a historic grant of up to $5.7 million in July 2023 to prepare Scott and Fayette County students for the future of STEM workforce. The collaboration is part of Toyota's Driving Possibilities initiative and is a five-year phased rollout of programing in targeted schools within the two school systems. Toyota is partnering with a myriad of community partners in Fayette and Scott counties to close the foundational STEM skills gap and address the barriers that impact success.
Community partners are vital to create community-based solutions to sustain this meaningful work.
Are you interested in becoming involved with Driving Possibilities in Fayette County? Contact Carrie Boling at c.boling@fayettefoundation.org or 859-489-3805.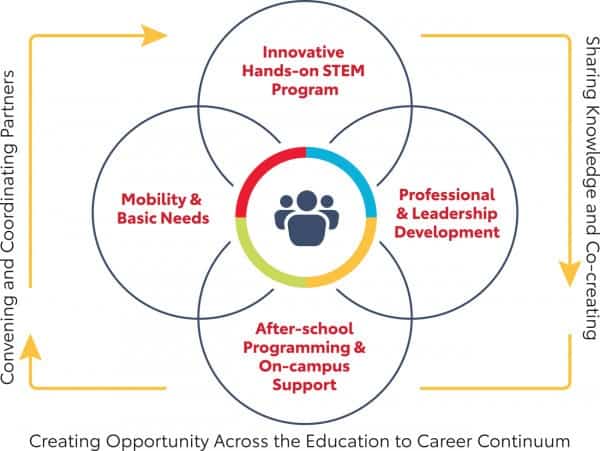 The Process
The Toyota Driving Possibilities Team visited schools and the identified communities to conduct meetings with school district stakeholders. The National Center for Families Learning (NCFL) coordinated focus groups then led multiple co-design meetings with Fayette County Public Schools students, educators and stakeholders to identify and prioritize gaps which lead to the three focus areas for Fayette County.
How it works for Lexington
Over a five-year phased rollout, Driving Possibilities will expand access to opportunities, create a pipeline that addresses the community's workforce needs and build a culture that embraces diversity and inclusion to strengthen communities. Initial work will focus on Lexington's Bryan Station High School and four elementary schools (Russell Cave, Northern, Mary Todd, Arlington) and one middle school (Winburn) in the high school's feeder pattern. This will be accomplished by focusing on three areas:
Language Barriers: overcome language barriers that currently exist to provide equitable education experiences for all students.
Career Connections: increase STEM and technical career awareness for families and students by increasing career connections during school experiences and out-of-school learning experiences.
Transportation: address the issue of student's inability to participate in real-time career and technical opportunities due to transportation barriers, family awareness, knowledge of transportation opportunities, and/or ongoing system of communication of transportation options.
How will this be accomplished?
Driving Possibilities Strategies – YEAR 1
The success of the first year of programs will help the team optimize and seek other partners for collaboration that align over the course of the initiative.
FOCUS AREA 1: LANGUAGE BARRIERS
Problem: English Language (EL) needs are growing beyond school capacity which limits access to learning.
Current condition: English language learning students gap in proficiency rates in reading, math, and science across grade levels in both districts.
Contributing Factors:
✓ Due to the rapid growth of non-English speaking students enrolling in both Kentucky school districts (~13% in one year), the school system is struggling to meet student and family needs.
✓ Lack of English language learner resources, interpretation services, and translation tools prohibit students and families from fully participating in school and out-of-school learning opportunities.
✓ Often, teenagers who enter as non-English speakers have had limited education throughout their lives; they face language barriers but also must learn educational practices and expectations, often without support from family members due to language barriers.
PROGRAMS ADDRESSING LANGUAGE BARRIERS – Year 1
PROGRAM: Commonwealth Institute for Parent Leadership (CIPL)
Funding Partner: The Prichard Committee for Academic Excellence
Fayette Prioritized Schools: English learners within Bryan Station High School, Winburn Middle, Russell Cave Elementary, Mary Todd Elementary, Arlington Elementary, Northern Elementary
Program Overview
• Prichard will facilitate the development of leadership and self-efficacy skills in English learner parents through the implementation of the Commonwealth Institute Parent Leadership (CIPL).
• Support families in developing deeper partnerships with their schools as they engage in practices that promote improved student learning and school practices.
• Create English learner leaders in the community and help parents develop deeper understanding of school structure.
PROGRAM: Family Literacy Model (prioritize elementary families plus refugee families) + Language Justice Services (community within district feeder pattern)
Funding Partner(s): National Center for Families Learning (NCFL)
Fayette Prioritized Schools: Bryan Station High School, Winburn Middle, Russell Cave Elementary, Mary Todd Elementary, Arlington Elementary, Northern Elementary
Program Overview
• NCFL will coordinate and train the family literacy program and lead language justice professional learning and resource implementation with support from partners.
• Family Literacy Model
• Focuses on the needs of EL families to reduce language barriers.
• Four components within the model: adult education, parenting skills, parent and child together time, children's education
• Language Justice Services
• Focus services on educators and industry partners to implement in equitable manner to meet needs in community by coordinating language justice services and resources throughout the school system (Elementary-HS and industry partners).
PROGRAM: Expansion of Fayette County Public Schools interpretation services
Funding Partner(s): The Fayette Education Foundation
Prioritized Schools: Bryan Station High School, Winburn Middle, Russell Cave Elementary, Mary Todd Elementary, Arlington Elementary, Northern Elementary
Program Overview
• Use of interpretation devices and Lexmark translation equipment
• Language ambassadors serve as interpreters for the ten highest need languages in the district.
FOCUS AREA 2: CAREER CONNECTIONS
Problem: STEM and skilled technical career awareness is limited for educators, students and families.
Current Condition: In Fayette County, as an academy-based school, 100% of students within Bryan Station High School are associated with a Career Technical Education (CTE)/STEM pathways however only 20% are college/career ready.
Contributing Factors:
✓ Not always systemically integrated
✓ Families are not currently always included in the conversation of CTE/STEM pathways.
✓ CTE/STEM career awareness is not prioritized in district professional learning plans for educators.
PROGRAMS ADDRESSING CAREER CONNECTIONS – Year 1
Program: NCFL currently leading workstream creating a framework for business and industry partnerships to enhance student learning by exposing all grade levels with intentional exploration and experiences across age ranges. (i.e., consistent programming systemic approach in field trips, job shadow, apprenticeships, mentorships, etc.). The request is to provide district support because there's a gap within the schools to organize and implement the framework.
Funding Partner: Fayette Education Foundation
Prioritized Schools: Bryan Station High School, Winburn Middle, Russell Cave Elementary, Mary Todd Elementary, Arlington Elementary, Northern Elementary
Program Overview
• Funds to provide district support with a Driving Possibilities Project Manager/Business and Industry Liaison and a Customer Relations Management (CRM) tool.
• Through current contracts with Toyota, NCFL will facilitate development sessions that produce district career connections throughout all grade levels.
• Provide opportunities for business and industry to commit to partnerships with the schools rather than a series of disconnected experiences.
• Implementation of the career connections plan will be directed by the Business and Industry Liaison.
FOCUS AREA 2: TRANSPORTATION
Problem: Public transportation services and costs are not aligned to address school and family needs.
Current Condition: Transportation costs are rising and there is limited public transportation both causing a barrier for after-school program participation and quality education.
Contributing Factors:
✓ To be determined by transportation study being conducted by the Community Transportation Association of America (CTAA)
PROGRAMS ADDRESSING TRANSPORTATION: Year 1
Program: CTAA proposed mobility solutions include Mobility management in Fayette County.
Funding Partner: Community Transportation Association of America (CTAA)
Program Overview:
• Consulting Fayette County and managing successful implementation of mobility solutions.
• FTSB-employed Mobility Manager embedded into Fayette County Public Schools to help the community develop coordination plans, programs, and policies that would improve regional mobility and connections.