Education Support Award for Single Parents
Presented by The Spires Family
Applications open each February. Deadline is March 25.
The Education Support Award for Single Parents: Presented by the Spires Family is underwritten by Fayette County School Board Member Stephanie Spires. It was created to give a graduating single teen mother or father a boost to help pursue her or his education and career goals as they work toward achieving financial independence. The applicant will receive a one-time $1,000 scholarship payable to the chosen applicant's institution.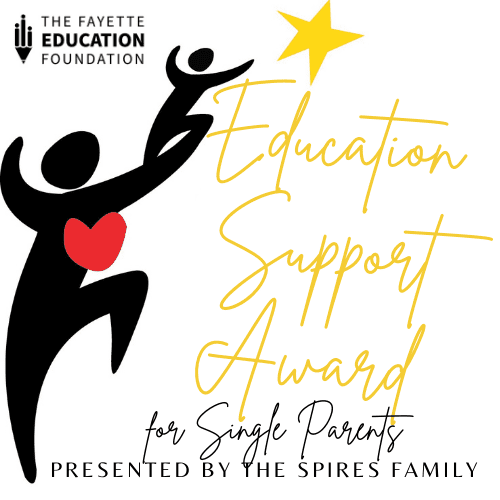 SCHOLARSHIP CRITERIA:
Be a 2022 Graduating Senior from a Fayette County Public high school or program.
Be accepted and enrolled in a training program or two- or four-year educational institution within 18 months of graduation.
Marital status: single (never married, widowed, divorced, legally separated) or married but living apart and your divorce will be final by the time the scholarship is awarded.
Parenting Status:  custodial parent or guardian with physical custody (50% or more) of at least one dependent child or child must be placed in same placement as scholarship applicant through foster care.
Household status: Applicant is either the only adult in the home with the child(ren); lives with parents or relative(s); lives with foster parents; or lives with a roommate who is not your partner, significant other, or a co-parent.
Write and submit a 250 minimum word essay with application on the following topic: "How Can Education or Training Help Me to Meet My Goals for my Family."
Complete online application no later than March 25 at midnight.