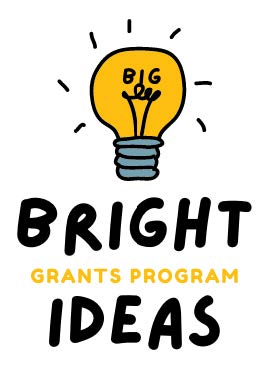 The Bright Ideas Grants (BIG) program promotes equity and excellence in classroom experiences that excite young minds and stimulate learning beyond what some school budgets allow. These classroom enrichment grants are awarded to teachers or public schools in Fayette County to bring innovative ideas, concepts, or practices to life, or expand past successful ideas in the classroom or school.
As of 2023, just under $104,000 has been awarded to 57 projects across the district.
Learn about what BIG ideas were funded with help from the community.
$55,545 total investment
31 programs
15 different schools
1 districtwide programs
Highlighted Projects from 2022-23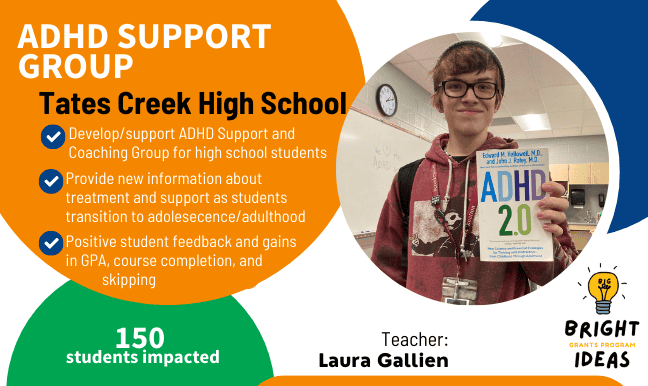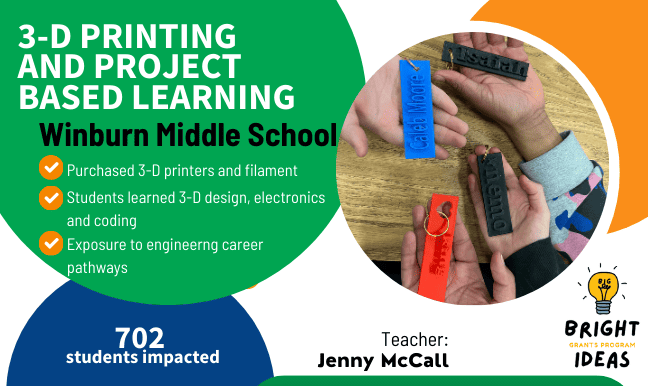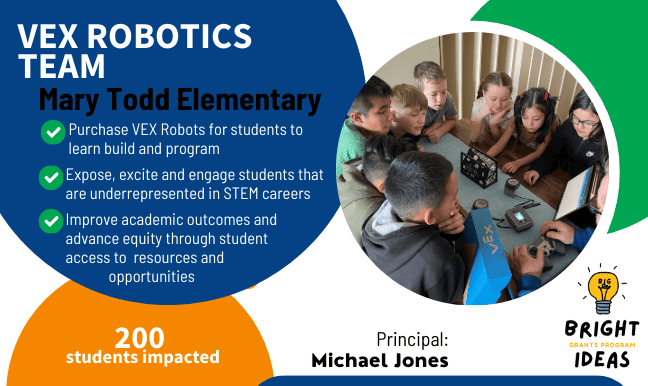 Complete list of project funded for the 2023-24 school year
| | | |
| --- | --- | --- |
| School/Department | Project Title | Description |
| Bryan Station HS – Marisol Valles | Sin Fronteras Musical Group | Aims to empower our diverse student population through music, helping them express themselves and providing them with a positive outlet to overcome challenges they may face in their communities. |
| Bryan Station Middle – Douglas Johnson | Find Your Voice | Private and small group instruction to help chorus students match pitch, read music, and sing healthily advancing the performing arts to underserved populations while impacting other curricula, such as literature, English language arts, English learners, and history. |
| Cassidy Elementary – Elisabeth Darce | Launching Phonics and Decoding in the Classroom | Provide beginning readers with opportunities to practice decoding CVC words, words with initial and final digraphs, and simple words with initial blends through small group guided reading. |
| Crawford Middle – Debbie Glenn | Cooking Club | Students will learn cooking skills provided by FoodChain, a local non profit, who will provide the food, often via local farmers. Students will gain STEM skills, as well as share a group dynamic which can bring about social and emotional wellness and give them a sense of belonging. |
| Dixie Elementary – Tansy Coats | Pay it Forward | A community connection project that focuses on fostering self confidence, connection and compassion in intermediate students as they engage in community service projects that are student-led to respond to needs of the community. |
| Eastside Technical Center – Nathan Hoskins | Dreamlifter | Through hands-on aviation program activities, students apply STEM concepts in real-world aviation scenarios  – from designing and building model aircraft to mastering flight simulations, our students are exposed to a wide range of scientific and technological principles. |
| Districtwide – Family and Community Engagement | Violence Prevention & Awareness, Phase 2 | Expansion the collaborative anti-violence project within to support LYNC (Linking Youth to Nurturing Communities) and Social Emotional Learning initiatives as a proactive response to the feedback from our students during Phase 1 (partially funded by this grant last school year). |
| Frederick Douglass HS – Hannah Carman | True Crime & Forensics Portable Project Lab | Creation of portable Forensic Science labs so students can comprehend and analyze complex texts, learn DNA analysis skills and learn about Forensic Science career paths. Writing and analysis of Crime Lit, documentary films, and nonfiction as well as practicing artistic skills such as creating Crime Lit fictional pieces, forensic art, and True Crime Podcast Creation. |
| Frederick Douglass HS – Yue Hu | World Culture Night | World Culture Night is a project aimed at promoting cultural awareness, diversity appreciation, and language learning among students and their families through interactive cultural booths and language learning workshops with the goal of becoming more inclusive and globally-minded. |
| Frederick Douglass HS – Tracey Bolinger | Happy Medium.Teen Perspectives | A three-tiered assessment (journaling, evidence based research and summative video discussions) that is designed to increase literacy across the board  in Sociology, Government and AP Government classes.  Each class  votes on a timely topic such as gun violence, education, dresscodes etc. |
| Frederick Douglass HS – Tracey Bolinger | Humanitarian Initiatives through Amnesty International | This project focuses on assisting underserved populations through inclusivity which involves a diverse student population to gather in a safe environment in order to advocate for a common goal.  Students from all ethnic and racial backgrounds come together with the goal of advocating for marginalized populations within our own community. |
| Garden Springs Elementary – Kay Snyder | Bookworm Vending Machine | Purchase a Bookworm Vending Machine to increase school-wide student engagement with popular/multicultural literature to create a literacy-based incentive system. |
| Garden Springs Elementary – Michelle Stokes | Mindfulness Matters Project | Using Zenimals, small, portable mindfulness devices, students can help regulate their emotions to help them be more successful with their academics. When students are regulated, they have a higher success rate for learning |
| Mary Todd Elementary – Lindsey Patrick | Battle of the Books | Program provides a unique experience for students to participate in a small group book club. Students will read 12 novels, discuss during literature circles, and then answer quick recall comprehension questions about the titles. |
| Mary Todd Elementary – Michael Jones | VEX Robotics | Students learn how to program and build a robot to perform various tasks. Math, science, engineering, problem solving, and resiliency are subjects and traits that will grow as a result of this endeavor as well as further exposure to STEM related fields and career pathways. |
| Mary Todd Elementary – Jessica Hall | Elementary Soccer League | Establish the first intramural elementary soccer league in Fayette County Public Schools. Mary Todd Elementary is taking the initiative to partner with five other Title 1 Elementary schools to start a club soccer program at each school for lessons in social-emotional learning (perseverance, teamwork, good sportsmanship, etc.). |
| Mary Todd Elementary – Michael Jones | Latin Dance Team | The dance team serves a tremendous opportunity to target our Hispanic students and families that have traditionally been underserved and overlooked. The students then perform at schools and other community events to increase cultural awareness. |
| Picadome Elementary – Allison George | Bridging the Equity Gap through Literacy & VR | A literacy program that integrates virtual reality (VR) technology to enhance reading skills and foster a love for reading among students. Teachers will receive professional development training to effectively integrate VR into their instruction, and reading enrichment activities such as book clubs and author visits will be organized to further promote a reading culture. |
| Rise STEM Academy for Girls – Avelina Gutierrez | Coding a Rainbow | First grade scholars will be learning about light and rainbows. They are also learning basic coding. Indi robots combine these two concepts because the indi's have colored tiles that can be placed in patterns to show indi what to do. |
| Rise STEM Academy for Girls – Kristen Witt | 3D printed Dojo Store | A unique and innovative approach to promoting STEM education, financial literacy, and career and technical education among scholars. By using Tinkercad.com and 3D printers, scholars will design and print various items such as charms, key chains, ornaments, pencil toppers, etc. which will be sold in a Dojo reward store. |
| Rise STEM Academy for Girls – Beverly Brothers | Girls Grub Group G3.G cubed | The scholar ambassadors will develop and run a food assistance program that will supply simple healthy meals for families. The responsibilities of the scholar ambassadors will keep food inventory, reach out to other community partners for additional food, and plan school-wide food drives. |
| Rise STEM Academy for Girls – Heidi Jack | Harnessing the Wind | Scholars will explore engineering concepts as well as learn public discourse and planning through the development of a wind turbine used to power a small light array. Scholars will research locations within the community and state that would be ideal for a wind farm and then advocate and develop a proposal for their community |
| Rise STEM Academy for Girls – Madeline Orr | Getting Around Town.Reducing Our Footprint | Scholars will investigate force, and magnetic force in order to allow a train to float down a magnetic track. The scholars will complete their own research on the best materials to use and the most efficient way to provide better transportation throughout Lexington. |
| Rise STEM Academy for Girls – Lauren Baker | Coding A Mission to the Moon | Scholars will create a code using sequence algorithms for a computer program to simulate a rocket launch to the moon and keep a moon research journal. They will learn about sequence algorithms and completing multiple trials of coding through concrete scenarios. |
| Rise STEM Academy for Girls – Trista Keene | Animal Adaptations through the Seasons | Project about animal adaptations and how animals change throughout the seasons. Will visit KY Down Under and interact with various animals, while also connecting their prior knowledge and confronting any prior misconceptions they have about the different animal adaptations (migration, hibernation, camouflage, blubber/winter coats). |
| Russell Cave Elementary – Melinda Caudill | STEM Lab | LEGO Education Spike Essential Kits for our new lab so that we can provide students with high quality resources and learning experiences for classrooms,  after school coding clubs, and STEM nights with families targeting low income students. |
| Tates Creek HS – Thomas Spata | Water Testing Project | Connect water quality/chemistry and learning the skills and procedures of being a technician in this field. Students will learn the science behind water quality and the proper way to collect, store samples and record/report data from the sources they are testing and create solutions to improve water quality at the different sources. |
| Veterans Park Elementary – Janet Bertrand | Bright Futures with TeachTown | Expand access to high-quality early intervention for our special education students with specially designed education services that emphasize inclusion and increased access to the general education curriculum through the highly engaging TeachTown software. |
| Veterans Park Elementary – Crystal Peters | Uke Can Do It! Strumming Towards Literacy Success | Create a dynamic and innovative learning environment that combines literacy and ukulele (music) education to align  increasing literacy with engaging lessons and activities, students will enhance their literacy skills while learning to explore, create, and perform the ukulele, fostering a love for reading and music. |
| Veterans Park Elementary – Emily Sharp | Learning in Motion | Groups work together to make history and literature "come alive" by creating stop motion videos of historical events and themes in literature, including social emotional concepts such as empathy and citizenship. They will also have the opportunity to create and execute story arcs of original writing pieces. |
| Winburn Middle – Jenny McCall | 3D Printing 2.0 | An expansion of the Automation and Robotics, Flight and Space, Medical Detectives, and Design and Modeling classes introduced in 2022-23 school year. Will expand printing capacity and add printing projects to the 6th and 8th grade curriculum. The goal of this project is to enable students to 3D print larger prototypes in the classroom and to introduce them to coding using Ozobots. |