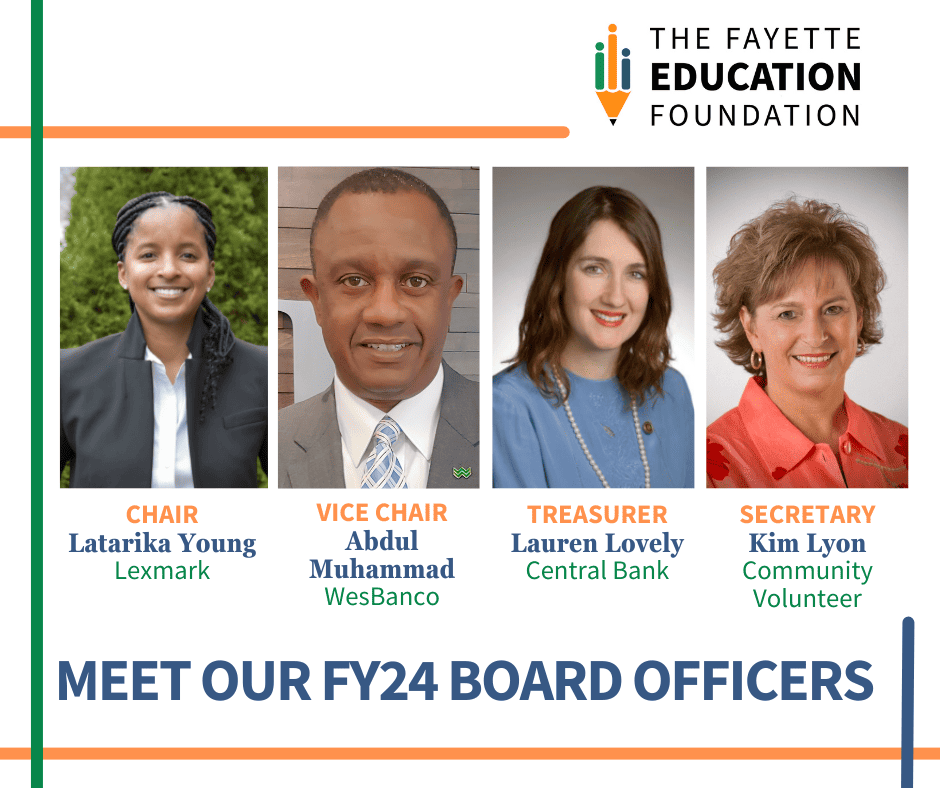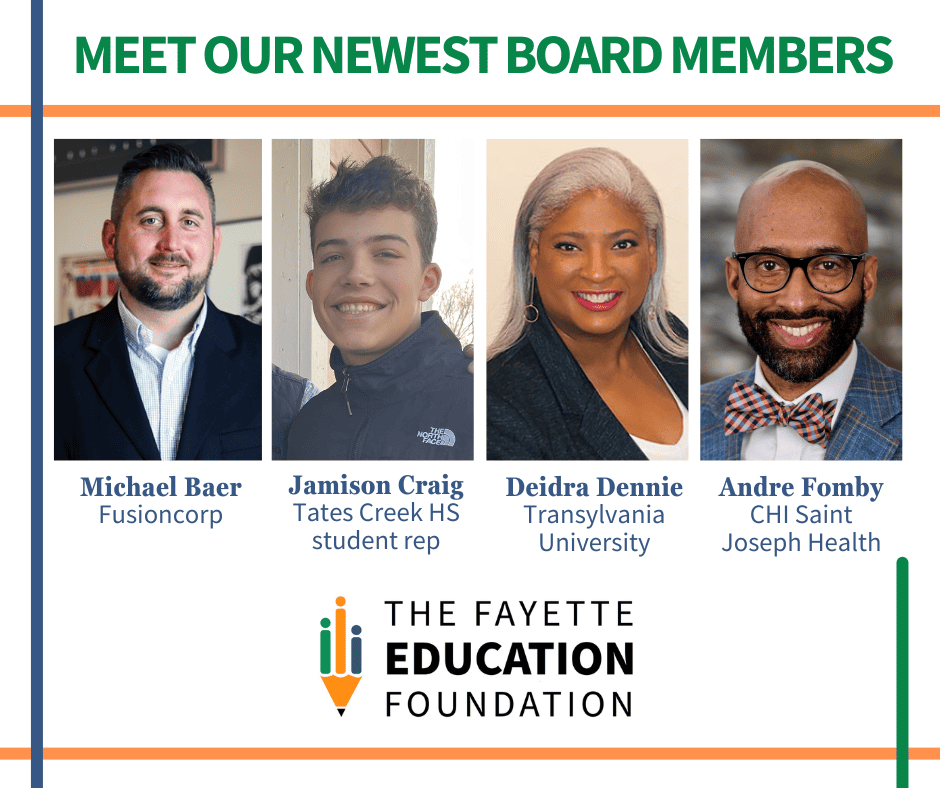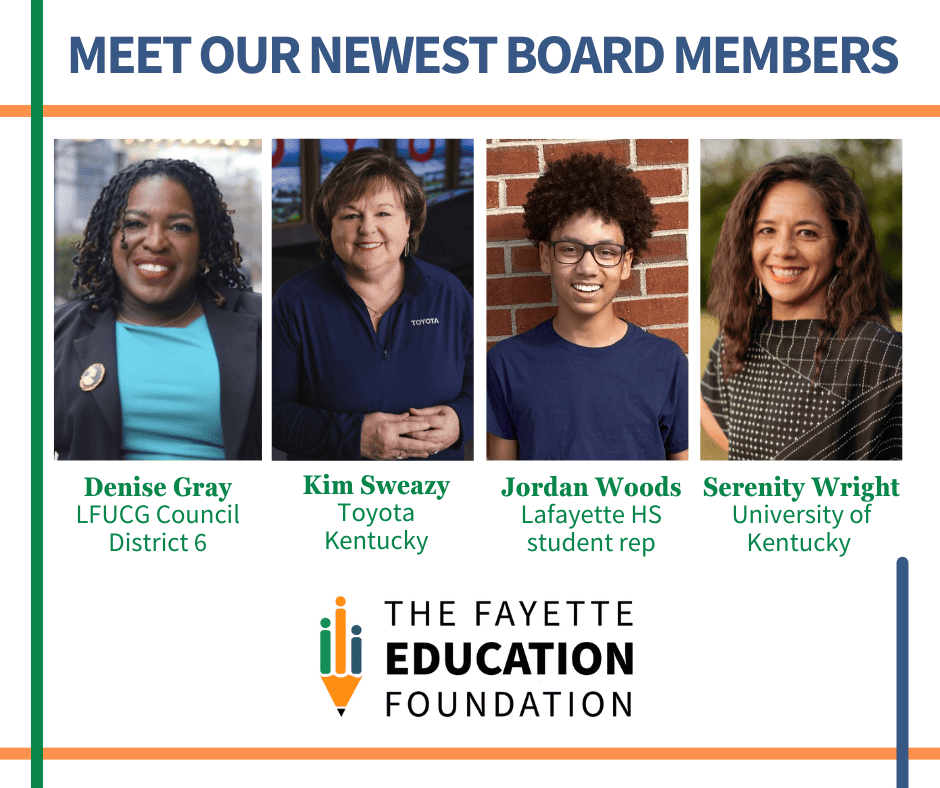 Eight new community members have joined the Board of Directors for a two-year term beginning July 1, 2023.
Michael Baer is the President and Owner of Fusioncorp and PIVT, technology companies that focus on areas of design, web, application development and creating immersive experiences utilizing Augmented Reality and Virtual Reality. In support of the community, he sits on the City of Lexington's Economic Development Investment Board, The Muhammad Ali Center and the Legacy Equine Academy.
Jamison Craig is a rising senior at Tates Creek High School. He has an impressive GPA of 4.0 in the International Baccalaureate Programme from which he will graduate in 2024. He attends Southland Christian Church, plays varsity baseball, and enjoys being involved in the local community.
Deidra Dennie is Vice President of Diversity, Equity, and Inclusion at Transylvania University. Deidra has a variety of professional positions over her career span of 25 years, including, Executive Director of Affirmative Action, diversity and inclusion practitioner, human resource leader, chief diversity office, and her current position at Transylvania University.
Dr. Dennie's commitment to diversity, inclusion and equity is rooted in social justice and equity, using these tools to dismantle oppressive systems and transform organizations. Deidra holds a doctorate in Public Administration from Valdosta State University, is a certified Change Management Practitioner, qualified administrator for the Intercultural Development Inventory and a licensed facilitator for FranklinCovey in Unconscious Bias and Seven Habits of Highly Effective People.
Dr. Dennie loves community service and works with various regional and local boards: Affordable Housing Funding Commission of Lexington, Bluegrass Preservation Trust, NAACP, National Alliance for Partnerships in Equity (NAPE). She is a member of Alpha Kappa Alpha Sorority, Inc. Beta Gamma Omega Chapter.
Andre Fomby is Market IT Director at CHI Saint Joseph Health. Andre has 20+ years of Information Technology experience with over 15 of them in leadership capacity. He is a graduate from Loyola University Chicago and Midway College where he earned his Bachelor of Business Administration and MBA respectively.
Previous volunteer experience includes: local YMCA youth mentor, parent member of Southern Middle School's SBDM Committee, Junior Achievement Instructor, and most recently Board of Trustees member at Consolidated Baptist Church.
Andre is a twenty-year resident of Lexington where he lives with his wife and two kids; 17 and 13; both of whom are students in the Fayette County Public School system. In his free time, he enjoys running, playing tennis, and reading.
Councilwoman Denise Gray was elected to represent the residents of the 6th District in November of 2022. Denise is a proud graduate of Bryan Station High School. She went to the University of Louisville, where she received a B.A. in Communications and was a founding member of Louisville's National Championship All-Girl Cheerleading Squad. She later graduated from the University of Denver Sturm College of Law.
Upon returning to Lexington, she sought to further her impact on our community and shifted her career to education. She started working with Fayette County Public Schools, helping Booker T. Washington Intermediate Academy students, Harrison Elementary, Crawford Middle, and Bryan Station High Schools.
As a testament to Denise's dedication to public service, and her commitment to her community, she has held several digital town hall nonpartisan conversations to address the "Hard Issues." Her "Addressing the Elephant in the Room: Race" town hall, which addressed policing, and other issues, was covered by the media around the Commonwealth. "Kentucky Conversations with Denise Gray" focused on the lives of our fellow Kentuckians.
Denise is an advocate for public schools and our youth, which is has coined as our next generation of leaders.
Kim Sweazy is the External Affairs/Corporate Communications Senior Analyst for Toyota Kentucky. Kim joined Toyota in Georgetown in 1989. She is skilled in strategic corporate philanthropy, event planning, and community relations. She believes in a strong community and is a social services professional with a B.A. focused in Communication and Media Studies from the University of Kentucky. She likes to get things done and has the ability to turn ideas into action. Kim is a proud alumna of Bryan Station High School.
Jordan Woods is a rising junior at Lafayette High School where he has received numerous awards for leadership, education, and attendance. Jordan is the secretary of Lafayette High School's Black Student Union, where he advocates for equitable change and community building. He has dreams of attending Howard University in Washington DC where he plans to major in education with a goal of teaching high school English.
Serenity Wright serves as the inaugural leader for the Social Innovation unit within UK Innovate at the University of Kentucky. After completing a Master's Degree in Curriculum and Instruction, Dr. Wright taught and served as an academic and behavior interventionist in a public school system for many years. Dr. Wright then earned her doctorate from the University of Kentucky in Policy, Measurement and Evaluation. Dr. Wright employs a hard science approach through a lens of cultural competency for her theoretical orientation.  She is passionate about advocating for and the expansion of, equitable access for resources and opportunities. She has partnered to serve and support several organizations across the state, and nationally, in their work to expand and sustain their impact to their constituents. Dr. Wright has served on several community boards and is appointed to the inaugural Mayor's Commission for Racial Justice and Equality.
Meet our FY24 Executive Committee:
Chair: Latarika Young, Senior Manager, Quality and Compliance, Lexmark
Vice Chair/Chair Elect: Abdul Muhammad, Senior Vice President, Kentucky Southern Indiana Regional Mortgage Manager, WesBanco
Past Chair: Dr. Rodney Jackson, Owner/Dentist, Pediatric Dentistry of Hamburg
Treasurer: Lauren Lovely, Personal Trust Officer, Wealth Management, Central Bank & Trust Co.
Secretary: Kim Lyon, community volunteer
At Large: Deidra Dennie, Vice President at Transylvania UniversityAt Large: Kaelyn Query, Owner/Founder, Lexington Event Company
The Fayette County Schools Superintendent, Dr. Demetrus Liggins, serves as an ex-officio member of the Foundation's board of directors.
Go HERE for a complete listing of The Fayette Education Foundation's Board of Directors.