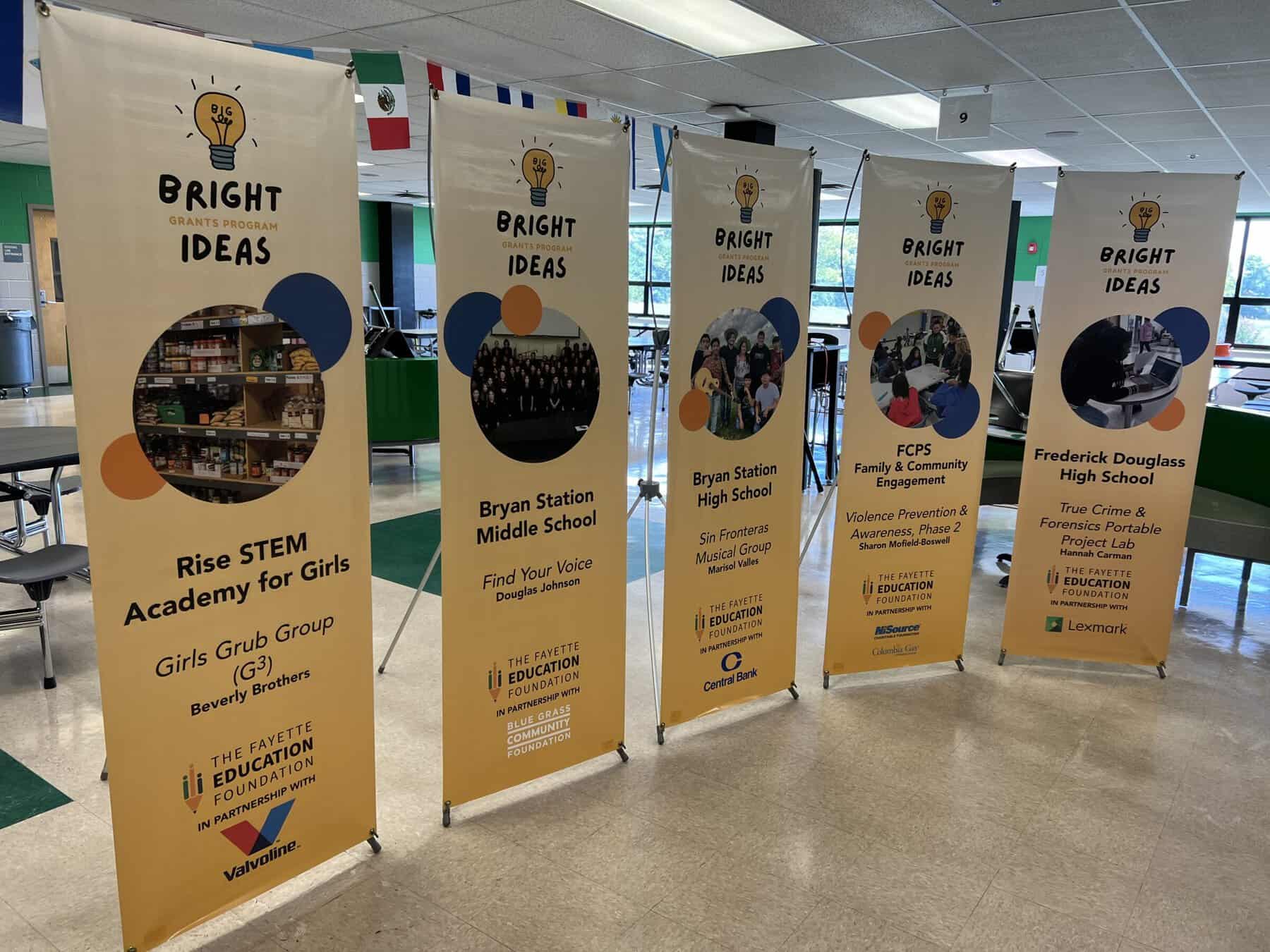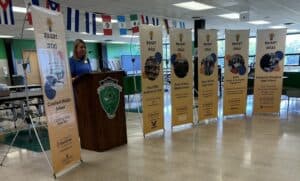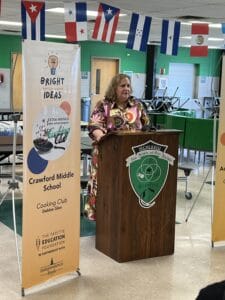 2023-24 Bright Ideas Grants recipients announced
The Fayette Education Foundation today announced $55,000 in Bright Ideas Grants for 31 projects in Fayette County Public Schools. Since inception, more than $100,000 has been awarded to 57 projects across the district.
"Thanks to these investments from civic-minded companies and other organizations in Lexington, classrooms across the community will be able to provide additional experiences that excite young minds and stimulate learning beyond what some school budgets allow," said Carrie Boling, executive director of the Fayette Education Foundation.
The announcement was made on National Kids Take Over the Kitchen Day at Crawford Middle School, where participants in its Extra Innings after school initiative will now have the opportunity to learn cooking skills for healthy meal preparation.
"We appreciate this funding provided through the Fayette Education Foundation and Independence Bank," said Debra Glenn, Extra Innings director. "We look forward to providing cooking classes, via FoodChain, for Crawford's Extra Innings students. FoodChain is one of our wonderful community partners, and we are grateful for the opportunity to bring these organizations together in order to best serve our students and families."
Local nonprofit FoodChain will provide food, often through local farmers, and teach cooking classes for six weeks during the fall semester and six weeks during spring. Students will gain STEM skills, as well as be part of a group, which can lead to social and emotional wellness.
"Being 'Here For Good' is our community commitment as we continue providing a hand up instead of a hand out," said Stacy Berge, president, Independence Bank, Lexington, which sponsored the grant at Crawford Middle School. "Meeting basic needs remains a pillar of Independence Bank and our Lexington team. What better way to embody this initiative than to earmark funds towards the Crawford Cooking Club, in partnership with FoodChain, so these middle school students may realize that healthy, locally-grown food can be incorporated into daily eating. These meaningful lessons not only encourage engagement, but also provide knowledge that can be carried outside of the classroom environment. By backing the Bright Ideas Grant Program, innovative and creative thinking is met with helping our youth develop lifelong skillsets."
Among the other featured investments, Columbia Gas sponsored five grants:
A water testing project at Tates Creek High School will connect water quality using chemistry and the skills needed to be a technician in this field.
A literacy project at Picadome Elementary will integrate virtual reality technology to enhance reading skills and foster a love of reading.
First-grade scholars at the Rise STEM Academy for Girls will be learning about light and rainbows while using basic coding with robots.
STEM initiatives at Eastside Technical Center's aviation program will provide hands-on activities where students will engage in problem-solving, critical thinking and teamwork while applying concepts in real-world aviation scenarios.
A 3D printer at Winburn Middle School will expand printing capacity and programs for popular classes that focus on automation and robotics, flight and space, medical detectives, and design and modeling.
"We are proud of the work these dedicated teachers are doing to provide a top-notch education for students and pleased to make this investment in innovative science, technology, math and engineering programs in our schools," said Kimra Cole, president and COO of Columbia Gas of Kentucky. "As our industry works toward a more sustainable energy future, we are excited about the energy these students will bring to the workforce in the coming years."
Lexmark funded six grants:
Portable labs for True Crime and Forensic elective teachers at Frederick Douglass High School will allow students to analyze complex texts and learn scientific skills in analyzing DNA.
The robotics team at Mary Todd Elementary will learn how to program and build a robot to perform various tasks.
A project at the Rise STEM Academy for Girls will combine STEM education, financial literacy, and career and technical education. Using 3D printers, students will design and print items that will be sold in a reward store.
A STEM lab project at Russell Cave Elementary will purchase LEGO education kits to be used in classrooms, afterschool coding clubs and family STEM nights.
Groups at Veterans Park Elementary will create stop-motion videos of specific historical events and themes in literature.
Scholars at the Rise STEM Academy for Girls will investigate magnetic force and research the best way to provide transportation in Lexington.
"The projects made possible under the Bright Ideas Grants program embody the Lexmark ideals of educational excellence, diversity and STEM advancement," said Sheri Depp, Lexmark's director of corporate citizenship. "We are thrilled to support these initiatives that will no doubt enrich the lives of all participants and in turn, the greater community."
For the full list of grants, visit https://fayettefoundation.org/bright-ideas-grants-program/