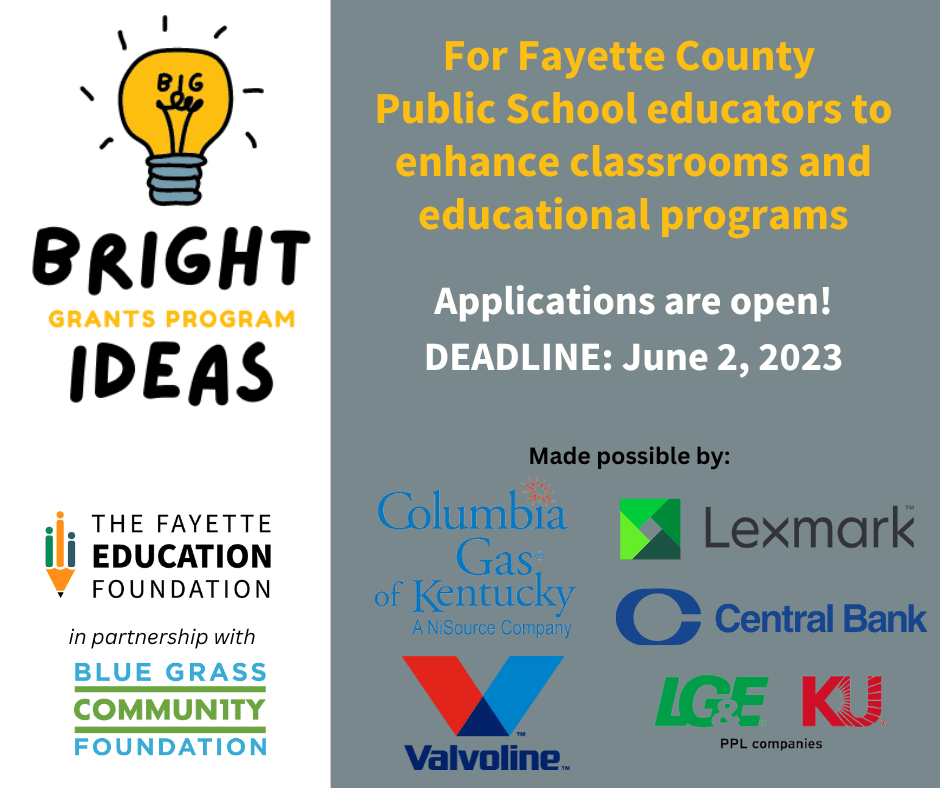 Bright Ideas Grants Applications Information

The Fayette Education Foundation is thrilled to announce its second annual round of Bright Ideas Grants. The application window is now open to all Fayette County Public Schools and programs.
The Bright Ideas Grants (BIG) program promotes equity and excellence in classroom experiences, initiatives and programs that excite young minds and stimulate learning. These classroom enrichment grants are awarded to teachers, staff or schools to bring innovative ideas, concepts, or practices to life, or expand past successful ideas in the classroom or school. Funds will be allocated to programs that focus on creativity, innovation and academic success.
Close to $50,000 was invested in 26 classrooms, schools and programs during the current school year. A complete list of the first cycle of funded projects is available on the Foundation's website.
Funding is made possible from individuals and corporate donors. A special thanks to Columbia Gas of Kentucky, Lexmark, Central Bank, Valvoline, LG&E/KU and Blue Grass Community Foundation for funding the upcoming Bright Ideas Grants cycle.
Grant applications must align with one or more of the Foundation's focus areas. Our current programmatic funding priorities include:
increasing literacy
career and technical education opportunities
financial literacy or education
STEM initiatives
assisting low-performing schools
assisting under-served populations.
Application Deadline: June 2, 2023
Recipients Notified: July 17, 2023
Eligible Applicants: All Fayette County Public Schools K-12 schools and school departments which includes teachers, educational assistants, librarians, counselors, social workers, and other school personnel. Applicants may apply as individuals or as part of a group.
Maximum Award Amount: $2,000
Generally, the Foundation will not fund requests for general administrative expenses, capital improvements, fundraising, or projects that do not support students or teachers within the Fayette County Public School district.
Applications and additional information are available online here or you may contact Carrie Boling, Executive Director at c.boling@fayettefoundation.org or 859-489-3805.