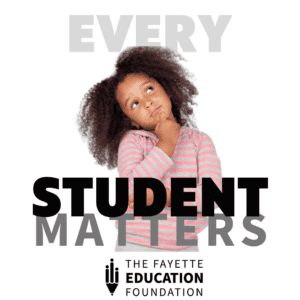 The Fayette Education Foundation Kicks Off "Every Student Matters" Campaign
LEXINGTON – The Fayette Education Foundation kicked off its fall "Every Student Matters" fundraising campaign this week. With a goal of raising $40,981, the Foundation is pleased to announce Toyota Motor Manufacturing, Kentucky, Inc.'s lead gift of $20,000.
The campaign's dollar goal represents the 40,981 students enrolled in Fayette County's public school system for the 2021-22 school year.
"At Toyota we believe we all have a stake in our public schools. As an early investor in The Fayette Education Foundation, we hope to motivate others to support the Foundation because we know they have increased flexibility to intervene swiftly and expertly to enhance the experiences of all public school students in Fayette County," said Kim Sweazy, Community Relations/External Affairs Analyst at Toyota. "The cornerstone of a strong community is a quality public education system. Toyota believes investing in the establishment of The Fayette Education Foundation will expedite its ability to identify and fulfill unmet educational needs and remove barriers to education."
The Fayette Education Foundation operates independently of the Fayette County Public School district yet cultivates innovations to benefit students and staff and to enhance the mission of the school district. Because of historical uncertainty and restrictions inherent in the Kentucky public school finance system, the school district collaborates with the Foundation to actively seek alternative sources of revenue to enhance and expand the quality of educational programming.
"We encourage others in the community to join Toyota to invest in the "Every Student Matters" campaign through The Fayette Education Foundation," said Jeff Koonce, Market President at WesBanco and Foundation board chair.
To make a tax-deductible gift, go to fayettefoundation.org or mail donations to: The Fayette Education Foundation, Every Student Matters Campaign, P.O. Box 910951, Lexington, KY 40591-0951.
###