Education Outreach Coordinator at The Fayette Education Foundation JOB DESCRIPTION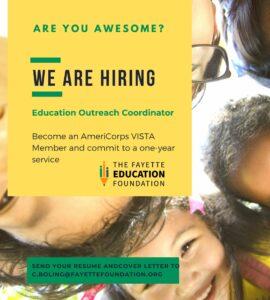 via The Plantory AmeriCorps VISTA Network
About AmeriCorps VISTA
The Plantory AmeriCorps VISTA Network provides one or more AmeriCorps VISTA Members committed to a one-year service term to nonprofit host sites in Lexington, Kentucky.
The program's approach to improving lives and strengthening communities is multi-pronged. They host one of the largest and most successful cohorts in Kentucky. They believe to eliminate poverty we have to have a lot of people committed to working together. Host sites within The Plantory;s network have a wide range of missions that fall under five focus areas: economic opportunity, education, environmental stewardship, healthy futures, and veterans and military families.
If you are interested in increasing academic achievement, mentoring youth, fighting poverty, or just about anything in between, our AmeriCorps VISTA network is for you. To learn more about our AmeriCorps VISTA program, email Shawn Bumpase, AmeriCorps VISTA Coordinator, at VISTA@plantory.org.
About The Fayette Education Foundation
The Fayette Education Foundation supports educational excellence in Fayette County Public Schools by promoting equity for all students.
The cornerstone of a strong community is a quality public education system. The Fayette Education Foundation, led by a diverse, community-minded board of directors, was created to ensure equitable access to opportunities and resources for all students. The Foundation is working with the district and community partners to ensure:
All students make successful transitions to Kindergarten and beyond.
Our students have access to broadband.
Students and families have access to out of school support.
All students are challenged to discover their path to success in college, career and life.
The Fayette Education Foundation an independent 501(c)(3) nonprofit, tax-exempt philanthropic charitable organization that operates independently of the Fayette County Public Schools yet cultivates innovations to benefit students and staff and to enhance the mission of the school district. The Foundation does not serve in an advisory capacity to the school district and its board, therefore, has no influence over school district policies, programs or operations.
To learn more about The Fayette Education Foundation, contact Carrie Boling, Executive Director, at 859-489-3805.
The Education Outreach Coordinator at The Fayette Education Foundation
Job Summary
The Education Outreach Coordinator will work closely with the Executive Director and Board of Directors to support resource development, programming and communications. The ideal candidate will have experience in fundraising and development or marketing and communications – a passion for education is a bonus. The Coordinator will help develop the partnerships and programming that are crucial to the success of The Fayette Education Foundation. All work will support the successful launch of our work to support the goals of the new superintendent, board of education and students and families of Fayette County Public Schools. We offer a flexible work environment.
The Education Outreach Coordinator will assist the Executive Director with database building and upkeep; creation of processes and protocols; acquisition of our 501c3 status; social media planning, creation and delivery; educational program creation including research, partner outreach and program design; fundraising including research, grant writing, cultivation and stewardship; scholarship management; online and printed communications; and other projects as needed.
One year of service. 35 hours per week. Position begins, once approved, on or around August 30, 2021.
Essential Job Functions
Communications
Oversee creative production and distribution of regular external emails, develop text and graphics templates, managing interface with our website •
Develop and implement strategies to improve organizational visibility and public relations activities
Write and edit newsletters, program brochures, flyers, etc.
Preparation and/or printing of presentation media and materials
Oversee social network profiles, leading research and populating with relevant content
Plan and coordinate board meetings
Development
Drive prospect and foundation research
Draft and edit proposals: manage the proposal development process, strategize on approach, track opportunities, manage timelines and provide follow-up
Help create program budgets for proposals and applications
Manage donor administration activities, including drafting donor reports, donor database entry, updates, invitations, thank you notes, and other materials
Develop online fundraising strategies, campaigns and calls to action
Develop and execute a plan and tactics for online mobilization, outreach and fundraising
Work with team to develop and execute consistent communication to cultivate and grow donor base
Implement and monitor metrics and analysis of online fundraising and constituent mobilization campaigns
Programming
Research best practices of programs that support the organization's strategic plan
Help create goals and a workplan for school and community-based programs
Help identify programmatic partners
Qualifications
Exceptional writing and proofreading skills
Creative
Demonstrated excellence in organizational skills and attention to detail; ability to help drive projects to completion and multi-task
Familiarity with social media
Ability to use good judgment, take initiative and make recommendations in resolving problems
Knowledge of, or experience in, online fundraising, nonprofit advocacy, membership cultivation and marketing is a plus
Eagerness to learn and contribute to a small team
Collaborative
Results-driven
Resourceful
Observant and intuitive
Proactive
Self-starter, dynamic and able to thrive in an unstructured environment
Responsive to direction and feedback
Ability to work independently and remotely
Personal values align with the vision and values of The Fayette Education Foundation
Physical Requirements and Work Environment:
Must be able to drive a motor vehicle.
Must be able to lift 30 pounds.
Must be flexible working in a fast-paced, non-profit environment. Experience or interest in youth and education is a plus.
VISTA Member Benefits
AmeriCorps VISTA Members receive modest benefits to help them throughout their year of service. VISTA benefits are managed at the Federal level, but we have compiled them here for your reference.
​A modest living allowance of up to $13,876.38 distributed bi-weekly over the course of a year or $513.94 (before taxes).
AmeriCorps VISTA Health Care Allowance or Benefit Plan to reimburse members for out-of-pocket expenses related to their health insurance.
Education Award of $6,345 after completion of service term (1 year) or a $1,800 end-of-service stipend.
Relocation & Close-of-Service travel allowance up to $500 if moving more than 50 miles from your home to serve.
Settling-In Allowance of up to $750 (must be requested).
One (1) year of non-competitive eligibility in federal hiring upon completion of your service term.
Professional development and training opportunities.
How to Apply
Email a cover letter and resume to Carrie Boling, Executive Director, The Fayette Education Foundation at c.boling@fayettefoundation.org.